Club Programme
Tickets for guest nights at the Black Swan are available from www.wegottickets.com. Search under venue "York Black Swan" or click on the links in the listings below. WeGotTickets charge a simple 10% booking fee on top of face value and email you a booking reference rather than posting a ticket, meaning you can book until 6pm on the day. Bring the booking reference number with you but do not bother to print out the whole booking confirmation.
Early booking is advised for very popular artists - we do sometimes sell out in advance!
Our price structure is changing from 13th February 2014. From that date, online concessions are applicable only to retired people over age 60 and to people on Job Seeker's Allowance.
Special concessionary rates (half the full price) are available from 13th February 2014 for under-18s and full-time students, but these tickets need to be booked by phone or email to the organisers - they are not sold online. See our contact details on the Home page.
Early Music Centre concert tickets are handled by the NCEM Box Office, either online or on 01904 658338.
Singers Nights are "pay-on-the-door" only events.
Doors open at 8pm each Thursday, 7pm at the NCEM.
5 February
New Roots Double Bill: KELLY OLIVER plus PROJECT JAM SANDWICH
£8 / Concs. £7
Our annual showcase for up-and-coming young acts. Kelly is a singer, songwriter, guitarist and harmonica player who is already making a name for herself on the music scene, getting 4* reviews for her 2014 debut album, appearing on TV and radio and and at major festivals, and even being joined on stage by Dave Swarbrick, no less! Sharing the night, Project Jam Sandwich is an amazing five piece from Manchester's RNCM playing world music "from Bulgaria to South Africa to Scotland" and concocting "a captivating set of exhilarating improvisations, scorching rhythms and beautiful melodies". Two contrasting acts, both well worth checking out.
12 February
The Patsy Reid Band
£12 / Concs. £11
After cutting her teeth with Breabach Patsy has become one of Britain's most in demand fiddle players, appearing in the Cecil Sharp Project, Northumbrian Voices and many other things. Solo release The Brightest Path displays her vocal skills as well as her virtuoso playing and enters Songlines' list of 10 essential Scottish albums. With a small group of accompanists, she gives York a very welcome call on a short English tour.
16 February
Ruth Keggin
£14 / Concs. £12
A SPECIAL EVENT FOR THE JORVIK VIKING FESTIVAL – HELD AT BARLEY HALL, STONEGATE. Manx Gaelic singer and flautist (and University of York music graduate) Ruth Keggin is joined by guitarist David Pearce and double bassist Vanessa Hutchinson for an intimate concert of songs and tunes from the Isle of Man. Ruth's debut solo album Sheear has received widespread acclaim, such as from BBC Radio 3's Mary Ann Kennedy: "Ruth Keggin is the pure and passionate Gaelic voice of the Manx musical renaissance. Sheear is a thing of beauty which makes the circle of British folk music tradition whole." This will be an extra-special acoustic concert in the atmospheric setting of medieval Barley Hall. There are only around 40 seats available, so book early! Doors 7pm, Start 7.30pm.
19 February
Singers & Musicians Night
£3 on the door / Concs. £2 / Performers £1
26 February
Fil Campbell & Tom McFarland
£8 / Concs. £7
This husband and wife duo from County Down has entertained right well us on several past occasions, performing a lively mix of old, new and self-penned Irish folk songs, accompanied by Fil's guitar and Tom's masterful percussion. Expect another fun evening with plenty of choruses.
12 March
The Gren Bartley Band
£9 / Concs. £8
Gren is a poetic and gifted young songwriter touring in support of a brand new third album and joined by a formidable trio of female noise-makers. Lydia Glanville strikes her drum kit with verve and intricacy, laying a perfect backdrop for the atmospheric violin, cello, keyboards and backing vocals of Julia Disney and Sarah Smout.
19 March
Roger Davies
£8 / Concs. £7
Described as "a bit like the Jimmy Webb of West Yorkshire" by Ian McMillan and as "a modern day musical L.S. Lowry" on Radio 3, Roger returns to us for a fourth booking as his reputation continues to grow. His deceptively simple songs resonate with Yorkshire roots but speak to universal themes of home, love, art and everyday life.
24 March
(NCEM Concert) The Poozies
£16 / Concs. £14 BOOKING NOW OPEN
This all-female band has long delighted audiences with their unique brand of folk-based music. First formed in 1990, The Poozies were pioneers from the word go, creating unusual and exciting genre-crossing arrangements. Some 25 years later, founding members Sally Barker – who was a popular finalist on BBC1's The Voice last year, but turned down a major record deal to continue working with her fellow Poozies – and Mary Macmaster remain, joined by Eilidh Shaw and Mairearad Green. With rhythmic, punching acoustic guitar, growling electro-harp, faultless fiddle, dexterous accordion and spine-tingling four-part vocal harmony, their material spans original songs, traditional Scottish and Gaelic pieces and contemporary folk and pop. SUPPORT FROM EDDIE AFFLECK.
2 April
The Jacquelyn Hynes Trio
£9 / Concs. £8
Jacquelyn is a London-based Irish multi-instrumentalist (notably on flute) who scored a hit last year with debut album Silver & Wood. "An inspired and pleasing collection of solid Celtic folk with many imaginative surprises" was the verdict in R2. Judge for yourself when she is joined by singer/guitarist J Eoin and harpist and fiddle player Steph West (seen in York recently with A Medieval Christmas).
9 April
Duncan McFarlane & Anne Brivonese
£7 / Concs. £6
With a well justified reputation for exuberant live performance (as enjoyed with his full band at several of our Folk Weekends) Duncan is always a welcome guest. He writes great songs in the folk idiom and mixes them with choice and modern covers. A stylish guitarist, he is joined by regular foil Anne on fiddle and backing vocals.
16 April
Miranda Sykes & Rex Preston
£11 / Concs. £10
This striking combination of a flame-headed double bassist and exquisite vocalist (best known for her work with Show of Hands) and a flamboyant virtuoso mandolin player creates, in the words of fRoots, "a musical partnership made in heaven - scintillating, sensitive and brilliant". This is indeed a very welcome return visit.
23 April
Andy Irvine
All tickets £12
Always a highlight of our programme, this living legend of Irish folk song surely needs no introduction from me! ADVANCE BOOKING ESSENTIAL.
5 May
(NCEM Concert) Lady Maisery
£13 / £11 Concs. BOOKING OPENS SOON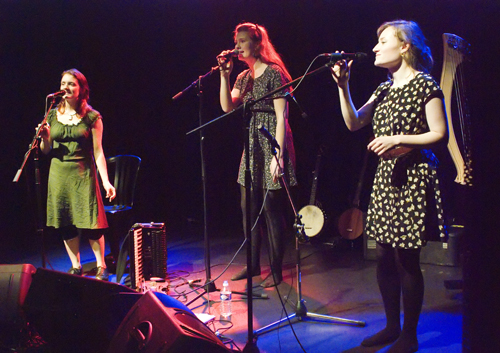 Forged from the voices of Hannah James (Kerfuffle, Sam Sweeney, Maddy Prior), Hazel Askew (Askew Sisters) and Rowan Rheingans (Fidola, Nancy Kerr Band), Lady Maisery perform fresh interpretations of vintage songs and ballads to stunning effect. They enchant with rich harmonies, sumptuous melodies and warm personalities, whether singing unaccompanied or playing combinations of accordion, harp, banjo, concertina and fiddle. The almost lost tradition of diddling or tune-singing is another speciality, together with Hannah's clog dancing. Nominated for Best Emerging Artists in the 2012 BBC Folk Awards and earning dream reviews for their recordings (4 or 5 stars from The Financial Times, Songlines, R2, The Independent and Maverick), this young trio is on track for great things.
7 May
Ben Bedford
£9 / Concs. £8
Making his York debut, Ben is an Illinois-born songwriter firmly in the Woody Guthrie-onwards folk tradition. He delivers intriguing sketches of ordinary Americans past and present, their struggles and their victories. Poignant but never sentimental, his songs capture the vitality of their characters and draw the listener deep into the narrative. "A truly inspired and talented storyteller" was the verdict in UK Americana magazine Maverick.
14 May
Colum Sands
£10 / Concs. £9
Remarkably, it is 15 years since we last welcomed Colum to our club! A storyteller-in-song, he draws on a long Irish tradition of poetic musicality to weave eloquent songs for the world, breaking down cultural and artistic barriers and making you feel as if you were sitting cosily in his lounge. Truly warm, witty, moving and funny.
22 May
(NCEM Concert) Emily Smith
£16 / £14 Concs. BOOKING OPENS SOON
More than a decade into her career, Emily is rightly celebrated as one of Scotland's most distinctive and sublime folk voices. Recent accolades include two nominations in the 2012 BBC Folk Awards, while current CD 'Echoes' has been universally praised. TV appearances on Transatlantic Sessions and Songs Of Praise have won her additional admirers. Joined by multi-instrumentalists Jamie McClennan and Matheu Watson, and switching between accordion and keyboard herself, Emily showcases material from the new album, in which she returns to her first love of traditional song, alongside some choice covers and samples of her own highly accomplished songwriting. SUPPORT FROM STAN GRAHAM.
28 May
Sharp's Appalachian Harvest with Jeff Davis and Brian Peters
£10 / Concs. £9
100 years ago Cecil Sharp toured remote communities in the Appalachian Mountains in search of old folk songs. He discovered new versions of many great ballads as well as songs and tunes of American origin. In this ambitious multi-media show Jeff Davis (USA) and Brian Peters (England) present some of Sharp's finds, alongside accounts of his journeys, descriptions of the source singers, and some of his evocative photographs.
18 June
David Francey
TBA
25 June
Dana & Susan Robinson
TBA
16 July
James Findlay
TBA
23 July
Judy Dunlop & Jon Scaife
TBA
Rescheduled from November 2014. Details tba.